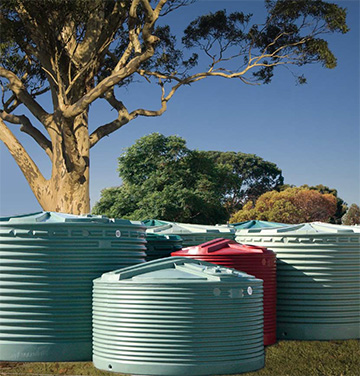 Thank you for your interest in the range of Team Poly Water Solutions For Life.
Team Poly has manufactured and distributed over 1 million water tanks throughout Australia since 1990. This provides us with a wealth of experience and ability to understand your needs whether you are a home owner, tradesperson, farmer or industrial.
Modern Machinery and Safety
Team Poly use modern production machinery coupled with safe and efficient working practices. You are buying from an ISO 9001 accredited company, assuring you of the highest quality manufacturing standards from start to finish.
Wide Selection of Poly Products
Team Poly offers a wide selection of poly products including rainwater tanks, industrial tanks, storage tank, cartage tanks, farming products, water pumps and related accessories. Our poly rainwater tank designs include;
Inspired by nature itself the Boabab™ range of rainwater tanks have been engineered to meet and exceed the most stringent of standards. Each design has been subjected to a full FEA (Finite Element Analysis) to maximise the strength and eliminate the stress points on the tank. Manufactured to be lighter while retaining their strength, the Boabab™ range of rainwater tanks are the tank of the future.
Environment Friendly
Our production facility is located in Lonsdale, South Australia and prior to any carbon tax we had already made leaps and bounds to reduce our carbon output by more than 800 tonnes of CO2—equivalent to the carbon generated by more than 18,000 trees grown for a 10 year period.
Water Solutions For Life
Whatever your water storage needs are, you can look to Team Poly to provide you with a water solution for life.
Call us today on 1300 658 961 or make an online enquiry.